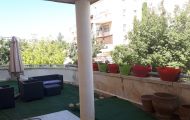 In Beit Harekem neighborhood. 
On Moshe Kol street,
beautiful 3 rooms garden apartment available for rent.
Overview
Property ID:Moshe Kol - Beit Hakerem
Location:Jerusalem
Type:garden apartment
Price:5,700
Size:80 m2
Bedrooms:2
Bathrooms:2
Car parking:1
Property Map & Aspect Viewer
Our property map and aspect viewer enable you to get a better understanding of the location of this property and an idea of the directions that its windows and doors face. For more information see our guide to property aspects.